Your Complete Guide to the Undermount Sink
Whether you're looking for a sink for your kitchen, bathroom, or even your wet bar, there are different styles, materials, and designs of sinks to consider before making a choice. First, you'll want to choose an installation type. The most popular installation methods are drop-in and undermount. In this blog, we'll review everything you need to know about undermount sinks.
What is an Undermount Sink?
As opposed to drop-in sinks that are the most familiar type of kitchen sink, an undermount sink is installed from below the counter. While undermount sinks do have a rim, the rim attaches to the bottom of the counter, so it isn't visible.
What holds an undermount kitchen sink or undermount bathroom sink in place is high-strength epoxies, anchors and clips, and silicone caulk, according to Ask the Builder. When it comes to cost for this style of sink, an undermount sink will usually cost between $250 and $800, depending on the size of the sink and the material.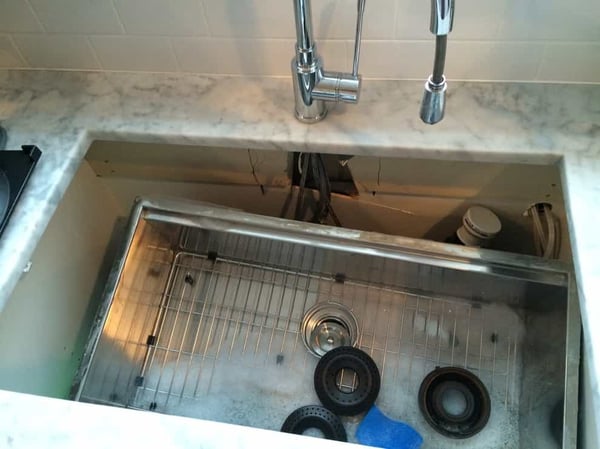 How is an Undermount Sink Installed?
The most distinctive feature of an undermount sink is that it sits below the countertop in your kitchen or bathroom. Because the edge lip of the sink is mounted below the counter, undermount sinks hang underneath the countertop. Unlike sinks that sit on top of a countertop, this style creates a continuous flow from the countertop into the sink.
How to Install an Undermount Sink
Properly installing and sealing an undermount sink is crucial for this style of bathroom or kitchen sink in order to make sure it's properly supported and to prevent leakage. Your counter and supports need to be able to keep the sink in its place and hold its weight safely. This YouTube video from Moen will help walk you through the installation process.
As with most DIY projects around the home, it can be easier to hire a professional. Most professionals will be able to install an undermount sink in 30 minutes or less.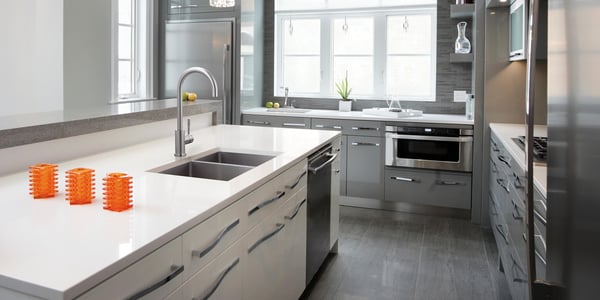 Franke is available at Kitchen & Bath Classics
Pros of an Undermount Sink
One of the greatest advantages of an undermount sink in your kitchen or bathroom is that it makes cleaning an easy task for your countertops. Usually, the ease of cleaning is the biggest selling point with this style of sink. Cleaning a countertop is simple because there is no lip acting as an obstruction. You can wipe crumbs and mess straight into the sink and down the drain. Drop-in sinks have higher rims, which don't allow for the same simple cleaning.
Another benefit of undermount sinks is that they give you more countertop space. Undermount sinks allow the countertop in your kitchen or bathroom to extend all the way to the sink. That means if you have a tiny bathroom or smaller kitchen, an undermount sink can give you a little more countertop space.
Finally, according to The Spruce, undermount sinks will return a better resale value for your home than drop-in sinks.
Cons of an Undermount Sink
Compared to drop-in kitchen and bathroom sinks, undermount sinks are not easy to install. It's simple and painless for homeowners to install their own drop-in sink if there's already a cut-out in place in the counter fitting the sink dimensions.
Drop-in sinks are also less costly. Undermount sinks will be more expensive both for the materials and the labour involved in an installation.
Lastly, drop-in countertops are the winner when comparing the better choice of countertop materials. You can attach an undermount sink to all countertop materials except for laminate. Unlike undermount sinks, drop-in sinks can be installed on any and all countertop types and materials.
IKEA's latest collection is the most groundbreaking launch to date,
The flatpack fad has gone 3D, which is awe-inspiring, stunning, striking, and completely fashionable.
IKEA The brand that is associated with flatpack furniture is no longer. The Scandinavian label has revealed its latest range, FLAMTRAD, which consists of decoration items printed 3D that are inspired by emoticons.
Its IKEA hacks and timeless flexibility adore the home decor giant FLAMTRAD marks the brand's move into 3D furniture. And it's the most ambitious launch they've had to the present.
The collection features posed hands, faces, and heads that can be hung to decorate your walls or as free-standing ornaments that can make an impact.
Although FLAMTRAD is a fresh concept, it will continue to honor IKEA's beliefs precisely because it can mix design and function within one unit.
IKEA developed the range to help customers express their creativity by providing a fresh canvas to display their favorite accessories. The result is a chic storage concept with an added 3D twist.
At present, FLAMTRAD is available on the German market, where consumers can buy it 'on-demand only. The announcement follows the massive popularity of IKEA's initial 3D-printed collection OMEDELBAR in 2017. The collection is currently only available in Germany, but it is anticipated that it will soon find its way to the world.
OMEDELBAR was founded to make 3D printing (3D printing) for the mass market. FLAMTRAD is the continuation of this vision, and we believe it will define trends in interior design for the foreseeable future. This is the first time you've heard of it.
Alongside its affiliation with the flatpack, IKEA will soon be recognized for its commitment to sustainability, and FLAMTRAD isn't a thing to be expected. The items are made from nylon, a recyclable material that celebrates the company's environmental footprint.
The collection is based on a 3D-printing technique called Selective Laser Sintering, well-known for its powder's waste. The problem is that SLS can be a complex procedure that gives the objects their distinctive appearance. Thus, IKEA met in the middle. They came up with a method to cut down on production waste and recycle any powder left over, which means you'll have peace of mind knowing that the new conversation point was not at the expense of the environment.
Customers in Germany can now shop the selection of items that range from EUR29.99 to EUR49.99 (approximately $34.20 between $34.20 and $57.01). The future of modern decor concepts begins right here.
Tips For Air Conditioning Unit Running Efficiently
Many properties are heated and cooled by central, whole-home, Residential Heating, Ventilation, Air Conditioning Service. The HVAC might be one of the most expensive and energy-hungry systems in the house; therefore, the more you realize about your HVAC, the better. A well-informed homeowner will save you money and have a wholesome, convenient home.
HVAC System
Central HVAC systems, in many cases, are called "split" systems just because several components are installed inside the house and several parts are installed outside a home. Within your property, usually installed in the basement, attic, or possibly a closet, you may find the furnace (oil, gas, or electric) and the evaporator in the main air-conditioner. You will also discover the blower (sometimes called an air handler), which serves the furnace and the air-conditioner. The blower is ducted, which are tubes acting as pathways to provide heated or cooled air to various houses.
Tips For Air Conditioning Unit
The last thing you wish to be concerned about during the sweltering summer season is the amount of money running your air-con device will probably cost. To convenience several of those problems, we've provided a few do-it-yourself tips to help keep your air-con program running efficiently.
Move Your Thermostat
Your thermostat may feel the heat from warm objects nearby, such as mild bulbs, televisions, and sunlight through windows. Avoid putting your thermostat close to these products for an even more appropriate reading. An inaccurate temperature studying could cause your air conditioning system to operate significantly more than needed, producing higher application expenses.
Use Your Ceiling Fan
Fans produce a breeze chill influence, and while they don't provide about an actual change in temperature, they can make your property feel cooler and convenient during the summer months. Using your fans and bathroom fans lets you raise your thermostat's settings by about 4 degrees, which can help you save money and reduce your power costs.
Program Your Thermostat
Employing a programmable thermostat, you can adjust the temperature to be comfortable while you're at home and then increase it while you're away. By showing up the thermostat at home by just a couple of degrees each day while you're out, you can save around 10% on your power bills.
Close the Blinds
Closing the shades or drapes has benefits beyond adding privacy. By turning your shades through the day hours, you are ready to prevent the hot sun from heating your property, which may cause your air conditioning unit to work overtime.
Check for Air Leaks
Unless your property is brand new, the cooled air you're paying to send through your home could be leaking outside through your doors and windows in place of reaching all of your rooms. When inspecting the areas, you suspect it could be leaking air, looking for gaps in the frames, or cracking caulking. Not just do they create drafts, but they may be especially problematic during heavy rain.
Clean Your Air Conditioning Unit
Just like the rest of one's appliances, your air conditioning unit will run more effectively and effectively when it's cleaned and well-maintained. Simply by rinsing the surface of one's unit, you can remove some of the dirt on and around your system, allowing it to cool your property more efficiently. If your air conditioning unit needs a little more TLC, a professional might help clean and safely inspect your system for a worry-free summer.
Factors For Selecting Interior Plantation Shutters
A luxuriously furnished house is everybody's dream; designing a house with furniture, vases, electrical devices, curtains, plantation shutters is a traditional approach; there are various distinctive ideas to create your home.
The thought of screen therapy is usually underestimated by people when they decorate their houses, but it's one of many places that can transform your position picturesquely. The screen therapy includes simple curtains, blinders, roller shades, blackout, plantation shutters, roman shades, and several more.
Plantation shutters are the brand new item available in the market, made available from several kinds of wood, wood, aluminum, and plastic materials. Choosing the most effective plantation shutters won't only control the light entering your space but also the solitude and protection. Moreover, these enhance the beauty, style, and decency of the place.
Strategies for selecting plantation shutters
Plantation shutters first may need the exact place where they're allowed to be installed. They are available in different measurements and shades acceptable to the family area, pulling space, toilet, and key entrance. Each measurement, style, and shade is somehow indigenous to the particular kind of space that may be destroyed if not located correctly.
Plantation shutters are available in different components available in the market, as previously mentioned above. The top-selling forms are aluminum, wooden, timbers, etc., relying on their advantages.
Typically, a shutter is easier to obtain clean, unlike the material curtains. While purchasing a shutter, make sure that the shutter's material is moisture-adopting so that wetness and steam onto it could be absorbed properly away. Usually, their shade, which will be frequently painted, can fade away.
Other helpful options that come with shutters are anti-bacterial, hypoallergenic, recyclable, soil and water-resistant. Quality shutters don't split, twist or split, and these are created for best-engineered performance. Ergo, they're fire-resistant, repairable, humidity, and termite tolerant too. Furthermore, wood shutters are scored as most readily useful for the material of shutters. Wood shutters are light measured with elegant spot finishing.
Among different benefits, shutters can be purchased in different types and proportions too. These can be purchased in spherical, triangular, and square styles in line with windows' design. They cannot split but can be folded back once again to get correct sunlight. Other kinds of screen apparel, nevertheless, take the total room and cannot get sided easily. Shutters have been described to be found in historical Greek times also to guard against severe climate problems, including rain, snowfall, summers, and winters. Commonly known designs are given as complete level, café style, and tier-on-tier shutter styles. While the title describes, full-height shutters are single units that open and shut altogether and perhaps not in parts.
The coloring of the shutter is yet natural but possibly the most challenging task to choose. It can give brightness and beauty to space if chosen appropriately, in line with the room's shade scheme. Just as the material layer, which will be generally preferred, remember the space's bottom shade. The shutter must also be possible in comparison or with a combination of the room's bottom shade. It may also be in strong comparison to the bottom shade of the space or by any means acceptable to the one who is allowed to be surviving in the room.